Recently it was my pleasure to consult with a long-time friend on her kitchen remodel.  Listed below are 5 costly errors to avoid on your kitchen remodel.    When I received a phone call from Tawnia about her kitchen project I knew by having a consultation she would find immediate relief from this taunting project.  Her husband was out of town and the frustration of over-seeing the household with two young sons, coupled with decisions about a kitchen remodel had her spinning.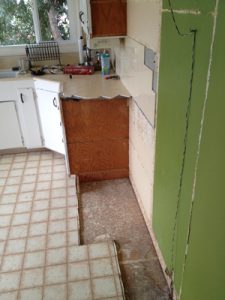 After just one of our brainstorming sessions, Tawnia wrote:  We recently began a remodel in our kitchen, original to my 1960 house.  The need for a new oven was the catalyst. We couldn't just install a new oven where the old one was. We had to demo that whole wall. At that time my husband and I couldn't agree, so I called Patt. When I could only see one way of doing it; she came in and took one look and knew exactly what to do to maximize my counter and storage space and have flow between the range, refrigerator, and sink. We are now going into the other wall to have the best feng shui position for the oven. My husband and I trust her immensely. We feel safe to move forward and can't wait to "feel" the shift in energy.  (Tawnia S. –  Ventura, CA – Watch for after photos of this remodel!).
Does your oven door open for your wealth expansion?  Each home has 9 quadrants and in each of these quadrants are letters which represent your home based on its position on the land.  In my book Feng Shui for Career Women, I discuss these letters, what they mean, and how to use the letters to position your oven doors to open for an increase in your wealth!
Here are some tips for you to keep in mind when doing your remodel:
1.  Keep all tall items together on one wall; double ovens, refrigerators, tall pantries and cabinets.
2.  Be sure the cabinet over the refrigerator comes out even with the refrigerator which makes that
cabinet easy to reach and provides available storage for cookie sheets, cook books and holiday items
that are used less frequently through the year.
3.  Keep low counters together for a more open space and maximum prep area.
4.  In addition to ceiling can lights, add hanging fixtures to provide ambient lighting.
This will keep people from appearing ghostly, especially in your photos.
5.  To expand your wealth, place the oven door opening to the "A" or the "C" quadrant specific
to your home.  To learn where about the "A" or "C" quadrant specific to your home according to Feng Shui
prosperity CLICK HERE for information on my latest book Feng Shui for Career Women: the Ultimate Women's Guide to Advancing Your Career and Increasing Your Wealth.
If you would like to discuss your next Kitchen remodel with Patt, click here to fill out the contact form to receive information about a low cost in-home consultation, or phone 805-523-8488 to discuss your project. 
Patt Sendejas  is an Award Winning Kitchen Designer, graduate of UCLA's Environment & Design Program.  As a speaker, coach, and author Patt enjoys helping her audiences and clients realize how to improve their environment in order to create a happy, healthy, and wealth enhancing space.