To receive upcoming monthly Feng Shui Energies before I post on my website, be sure to sign up for my emails at the right of this page. Change your perspective and change your life.  September's Feng Shui energy brings a welcome change from the delays of August, bringing movement, travel and creativity officially arriving on September 7, 2016.   I was preparing to write my energy report for September and I got a request to write about delays.  I could not help chuckling because in our society today, everyone tends to complain about things moving too fast.  I often hear comments like, "Time sure is moving fast", "Summers over too soon", "How did September get here so fast?".
We are just completing the month of August with the energy of delays and endings in the center of all buildings, and with Mercury Retrograde arriving on August 30, lasting until September 22, it is no wonder many feel like they are in a holding pattern.  It was only yesterday that the main transportation was the automobile and now we can fly across country in only 5 hours, if you don't count the 2 hour wait to get on the plane,  LOL!  Let's stop to remember that Goggle did not exist before 1990, so being able to connect with friends through online chat and texting in a minute using your hand held phone, was unheard of.   Oh and don't forget Siri who gives us necessary information in an instant!
Putting things in perspective is so important, especially now, when the media tends to control the masses with drama and negativity, it is important for you to be able go within to get your own answers.  I remember when talent agents of celebrities would say to their clients, "It doesn't matter if you have negative or positive publicity, it just matters that you are in front of the public at all times, so the negative publicity to gain attention was born!   Don't allow the opinions of others  to influence what you know to be the truth for you.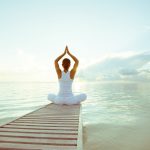 I just began a formal meditation class once a week in order to get better at observing and letting go.  The instructor said true meditation is not emptying your mind for long periods of time.  Sitting still to clear your mind in total relaxation is important in order to reduce stress.   She went on to say, that is not all there is to good meditation.   She explained that there are five steps to meditation and it can be done when you are walking your dog, gardening, swimming, and/or relaxing; to name a few.
The five steps are: first Preparation; having a good intention to your meditation, example would be a desire to relax, to let go, and to enjoy a happy life no matter what is happening around you.  The second step  is Contemplation.  This is where you become the observer of any problem.  Being the observer removes the emotional attachment.  Third is Meditation, taking responsibility by understanding how you created your experience.  She mentioned if there are 32 people in a room observing her, based on their personal perspectives and experiences there will be 32 different opinions about  her, and all could be different from the others.    If you focus on what others think about you, you can go crazy.  Stay true to yourself and change your perspective to be at peace.   Their would be no way to please, or to know what to do to please another since your perspective is all you have, and that could be quite different from another's.  The fourth step is Dedication to following through and gaining insights.  The last step is Integration, applying the knowledge you have received from within to improve your daily life.
Being happy is a choice.  It all depends on what you focus on, and how well you can train your mind to turn away from negativity and focus on joy.  It is simple, but not often easy.  Sometimes people find the drama more exciting, but the truth is that happiness takes discipline to let go of any disruption you may encounter from the outside world and others.
My older son once explained it this way; "Bright shiny object, bright shiny object, focus, focus, focus, bright shiny object, focus, focus, bright shiny object, bright shiny object, bright shiny object".  How many times in a day are you distracted by the bright shiny objects?  How long does it take you to get back to your focus?
Patt Sendejas, CA Certified Interior Designer, author, speaker, and consultant is available for Interior Design/Feng Shui consultations on commercial and residential spaces.  Patt is an award-winning kitchen designer, model home designer, and holds a B.A. in Interior Design.  She is also a graduate of UCLA's Environmental and Interior Design Program.  Call Patt today for an hourly in-home design consultation – 805-523-8488.