JUNE is a very special month. June's Feng Shui energy of wealth and fame arrives officially on June 5th and lasts until July 6th.   See further details of this month's visiting energy for all nine areas of your building in this post.  Also occurring on June 5 is a rare and remarkable event having a powerful influence on us.   It is when the planet Venus comes between the Sun and the Earth. This happened in 2004 and again this year in 2012 (always repeating itself 8 years apart), and then will not recur for 120 years.   What is so special about this energy is that it is the best time to set your intention for how you would like to experience your life in the years to come.
If you could write the script for your life without judging if it would occur, and without trying to figure out how it could happen, then what would your life look like?  How would you spend your time, and who would you be enjoying life with?   What would your environment look like?  Would you live by the beach, lake, or in the mountains? Would you move to Hawaii, Canada, Europe or closer to family or friends? Would you quit your job and stay home with your kids, or start that business you have been dreaming of?  The Universe cannot deliver your perfect life until you are clear and honest with yourself what that looks like and how that would feel.  If your desire is in alignment with your passion, then your vibration (based on your emotions, not your intellect) becomes a match for what you desire and you begin to see synchronistic experiences occur that leads to your wish.
I recently listened to a radio interview with Greg Walsh author of the book "Just Allow It, Living In the Magical State of Allowing".  Greg said,  "Our life is smoother when we live life without judgment, letting go of our regrets or guilt, realizing that we are all doing the best we can in each moment based on our #1 need for survival, and that no one sets out to do hurtful things to others".  He went on to say, "That applies to our parents who may have had different ideas about what is best for us, for example: their  life being more rigid and restricted than we would want, causing us to feel wrong or unsupported".   Greg also said, "A person always thinks that what they are doing will make their life or the ones they love better.  It's a hard concept to grasp, but helps us understand that what we perceive to be bad in the world, is really based on our own feelings, perspective, and opinions".   Personally I feel that when we see a problem situation differently, then we can be more compassionate to others, and most of all to ourselves.  We are able to love others and improve our world when we truly love and accept ourselves first.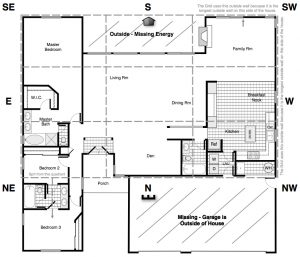 Garage is not included in the nine box grid.
Here is an example of a grid often, called a baqua, created to identify the nine quadrants in a building.  If you draw a diagram over your floor plan which resembles a tic tac toe game, as indicated above, and then place the directions in each of the nine boxes that match your home or business,  then you will be able to see what energy is coming through your front door,  where you sleep, and where you work, as I have listed below for the period from June 5 through July 6th.   NOTE: In the above example you can see that the front door is located mostly in the NE quadrant.  The directions in the example above may be different than your buildings directions.  Also when a part of your building extends outward as in the NE above, it is an extension of the quadrant it connects with.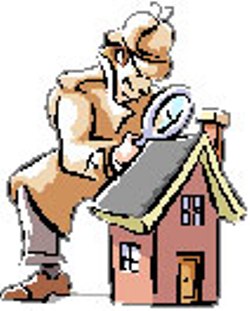 Monthly Visiting Energy for…… June 5 through July 6, 2012.
Center this energy increases what it is with this month.  Whatever the permanent and yearly visiting 2012 energy is in the center of your building,  you will see this energy increased this month.  Also this energy brings a higher potential for wealth and fame in June.  If you want a report by mail of your building's energy see how to SAVE MONEY by ordering a report by mail under my consultations tab at www.WithinYourSpace.com/consultations.  On site visits are available by appointment.
South this energy may help you slow down this month if this is your office, front door, or area where you spend a lot of time.  This can be very frustrating if you are working on a project with an important deadline.  If that is the case, sleep in a different bedroom, use a different entry, or work as much as possible in another area of the building this month and avoid the South.  If that is too difficult, then just ALLOW!  Know that this too shall pass on July 7!
Southwest this energy brings a potential for wealth.  This is excellent energy to support presentations, sales, and/or public communications.  It may come with some arguing or challenges.   Be patient and all will flow smoothly.  Sometimes this energy can bring confussion or indecision.  Hang in there because power and authority comes to this area in July. 
West this energy brings a potential for whining and complaining.  If your phone is in this area you may have more calls complaining about things this month.  Often when you allow people to complain, they find their own solutions and just need someone to listen as they express themselves.
Northwest this energy brings the potential for separation and/or sickness.  Separation can be good if you are making room for new experiences or new things in your life.  We must let go in order to create space for new relationships, work, social activities or other new interests.  Change allows us to grow and always involves "letting go".
North this period brings the potential for power and authority.    Great energy for negotiations.  This energy is very auspicious.
Northeast this period brings the potential for creativity, travel, speaking, academics, creative writing, and/or the potential for love.  This has a higher potential if this is your front door or bedroom.   Looking for love?  Make sure you position your head of your bed in your #1 best sleeping direction.  Submit your e-mail in the box on the right of this page to receive your FREE Personality Profile and find your best direction!
East this period brings the potential for expansion of wealth, good health, and/or new relationships in your life.  You may receive a raise, a marriage or birth of a child may expand your family this month, or you may be surprised that your home is filled with visitors whether you entertain more, or are selling your home and your realtor holds numerous open house events.  Again this energy has a stronger effect on you if you sleep in the East or this is your entry door.
Southeast this period brings the potential for expansion of the permanent energy in your building located in the Southeast.  This permanent energy was  captured when your building was built and needs a compass reading to determine the energy.