Clarity comes for many this month focused with compassion along with whining and complaining. We are still in Mercury Retrograde which ends April 15th when things will really begin to move forward for you because we are entering a period of heightened Spiritual awareness.  This will bring you greater clarity in April.  Symbolic of spring when flowers open and begin to bloom, you will see society with open hearts and strong will to speak out and speak up, as our USA youth continue to use their voices to inspire society.  More hearts will open to reveal the truth about what is in our hearts as more understand how we are all connected. The power of love is replacing the love of power NOW!
Scroll to the bottom to read details of April's Feng Shui visiting energies.  To receive this monthly blog energy post early in your inbox, just submit your name and email in the box to the right of this page for my newsletter emails.  Remember to watch your inbox for confirmation of your request.
A whole new society is birthing!  So if you need help discovering your direction, gaining clarity, and knowing where you fit and how you can make a difference in our changing world, ask your angels and guides for direction.   I have been getting undeniable signs that Spirit is here to support us if we ask for help as demonstrated by my yellow balloon story below.
Recently I had a hypnotherapy session with my skilled hypnotherapists; Peter Wright.  Click here to check out Peter's website.   I find his sessions to be relaxing, beneficial, and bringing greater clarity in all areas of my life.  When I was leaving a session recently I told him of my concern for the health of another.  He said, "We can do a remote healing session for the other person through you".  I was unsure of whether or not I should do that, not wanting to interfere with another's spiritual path and their life lessons.  So I said to Perter, "I will ask to see a yellow balloon if I am supposed to come back to you for this remote healing", and then I left.
That whole day I did not see any yellow balloons.  The next day I took my dog on our normal daily walk to the park.  As I crossed the bridge and started around the park on the dirt path, I passed a large sycamore tree with people picnicking at a table under that tree celebrating their child's birthday.  There were a few red and white balloons but then, to my surprise, I saw hanging from a tree next to them one lonely yellow balloon, just hanging there.  I was amazed and had to take this photo below.  The clarity I gained from this experience was amazing.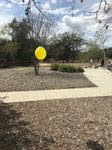 It was as if Spirit was Talking Directly to Me
to bring the Clarity I Desired!
As I walked around the park there was this one lonely balloon hanging from the tree which could be seen from everywhere I walked around the park. It was as if Spirit was talking directly to me to bring the clarity I desired.  I was amazed by my bright yellow balloon hanging alone from a tree.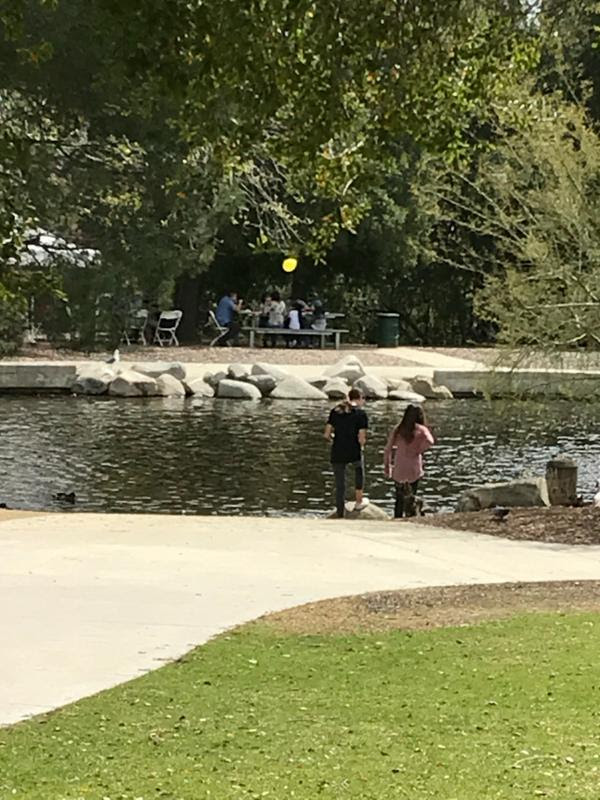 I suggest you try it  Ask a question and declare what you will see if it is a yes answer, a go forward!  You can ask for seeing red roses, receiving a phone call from a friend you have not spoken to in a long time, or hearing a honking horn, to give you some ideas on what you might ask from Spirit when wanting validation for a decision you want help with.
This past week has been a busy one for me, since I had been preparing for a family Easter celebration, and planning my April birthday celebration, following up with a client who just moved to his new building after being in his previous location for 20 years, and creating April's Zoom Energy Video and hosting the live call last Wednesday.  If you want access to view the recorded Video from the March 28th call about April's energy, CLICK HERE to request and receive instant access to the training video!
                                                      * * * * * * * * * * * * * * * * * * * * * * *
My Birthday Month gift to you!
CLICK HERE to receive my 30 Video Feng Shui Crash Course for a low $97 price
during the month of April; an 85% SAVINGS!
Reduced price ends… 4-30-18.

* * * * * * * * * * * * * * * * * * * * * * *
Unlimited Viewing for NEW Video Training
​​​​​​​for the Monthly Energy
Remedies & Energies in a Detailed Video for April!  (Recorded March 28th)
CLICK HERE to order and immediately access the March 28th Video for April's Energy!
CLICK HERE for Details to join my Monthly Training Calls

Each month on my Feng Shui training video calls I use a Power Point to share
with you information on the proper remedy that you will need to place in your home and/or your
work environment to support your best outcome. Plus a detailed description of the energy!
See below for
Feng Shui Visiting Monthly Energies for: April 5th, 2018 thru May 4th, 2018
(CLICK HERE to read last month's March, 2018 ~ Feng Shui Energy Blog)
Center:   this month's visiting energy brings the potential in the center of all buildings for whining and complaining.  Voices will be heard in April as people speak their truth!
South:   this month the visiting energy here in the South brings a potential for wealth plus the occupant of this area could experience back problems.
Southwest: this month's visiting energy brings the potential to increase your permanent and yearly visiting energy to it highest potential for the year!  This month brings an increase in the yearly 2018 energy of power and authority!  Enjoy a prosperous month in the Southwest!
East:  This energy brings wealth and fame during April.  It also increases your permanent buildings energy.   Plus if you spend a lot f time here you may find that you experience cravings for sugar or alcohol this month.
West: the visiting energy here brings the potential for delays, pain, and struggles.  This is a very challenging energy this month in the West bringing major change.  It is referred to as "death of the old".  We may see some big changes this month in the West Wing of the Oval office.  If possible avoid working or spending time in the West this month!
Northeast:  the visiting energy here brings the potential for power and authority.
North:  Enjoy an abundant April with more wealth, added relationships and/or good health expansion, especially if this is your front door, office, or bedroom.
Northwest:  this month's visiting energy brings the potential for creativity, travel, speaking, creative writing, and is good for teaching and learning.  Also this is a great month for the person in the Northwest to be seen as a pillar in their industry and/or attract a new love!
Southeast:   this energy has the potential for separation and/or sickness.  You may receive a transfer or promotion, or change jobs this month.  It is a month to let go if you spend time in the Southeast very often in April.  This energy could also mean a relationship breakup this month if this is your bedroom or area where you spend a lot of time.
If you would like to know more about having an on-site Feng Shui consultation for your home or business, phone me at 805-523-8488 for a personal quote.

* * * * * * * * * * * * * * * * * * * * * * * * *

Patt Sendejas, CA CID – CA Certified Interior Designer, author, speaker, and Feng Shui consultant is available for Interior Design/Feng Shui consultations on commercial and residential spaces. Patt is an award-winning kitchen designer, model home designer, and holds a B.A. in Interior Design. She is also a graduate of UCLA's Environmental and Interior Design Program.
Call Patt today for a home or business Feng Shui Interior Design Consultation – 805-523-8488.