The official Feng Shui energy shift for the 2017 energies will arrive February 3, and not January 1, 2017.   Right now we are experiencing the end of a Mercury Retrograde that began December 19th.  The Feng Shui separation visiting energy beginning January 5, 2017, at the 1st quarter new moon, and ending February 3  will help change come more easily preparing us for the abundant energy coming in February. Now is the time to decide what goals you want to manifest, and what you will need to release in order to achieve your desires!  Begin taking action at the Full Moon on Thursday, January 12th.
The Full Moon in January has been referred to as the Full Wolf Moon because folklore has shared for years that wolves were known to howl in hunger outside of old villages in January.  You can read more about the moons cycles on the website; www.Almanac.com,  At the 3rd quarter moon on January 19th, it is a good time to announce your plans publicly.  When the New Moon arrives on January 28, 2017, you can begin to see how your plans are turning into exciting results!
January's Full Moon is known as the Full Wolf Moon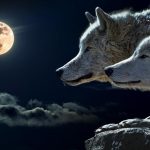 Mercury retrograde will run until Sunday, January 8th, so it is best to work on plans right now for your 2017 year ahead. Avoid making big purchases or major changes until after January 11th when the retrograde has fully passed. This will be a wonderful time for new beginnings. If you have been thinking about starting your own business, after January 11th, will be a good time to start to put that idea in motion with results coming January 28!  Avoid signing important contracts or making big purchases right now, especially related to electronics until after Mercury goes direct around January 11th!
This is still a great time to work on becoming clear on manifesting all your dreams that you want to experience in 2017. Retrogrades are best used to reflect, review the old, remember what worked best and what did not, and rewrite your script so you create what you truly desire being true to yourself!
As we move into January we will have more divine light coming than we have ever experienced before. As this expanding light of allowing has been shining on all of us since the 2012 shift that occurred on 12-12-12, we have seen this divine light on our planet becoming stronger each year which has caused us to become more transparent bringing up more negativity in all of us in order to shine a light on what does not work in order for the negative to be cleared.
If you have been waking up with a feeling of anxiety, or you have been having rather dark unsettling dreams, as I have, or if you or a loved one has been cranky or just plain irritable, or you have had mood swings being happy one day and down the next, or if you have had unusual health challenges, this may all be happening because you are one of the "sensitives" on the planet that feels the fear of others who are challenged by change. If those symptoms sound familiar know that you are here to help transform that negative fear based energy into more positive energy on our planet. My biggest challenge has been to ignore the negative comments that others say behind peoples backs.
"I long for the time when others uplift each other and help to encourage and support one another realizing that by doing so, we all benefit, because we are all connected."
Know that you are needed during this huge time of change. This will be a big year for you to realize who you are; choosing to step up and be more of who you are by sharing your talents, gifts, truths and spirit with others. Figure out how to use your talents in a bigger way this year and go for it! This is the month which allows you to "let go" of the old you and to live your life on your terms doing what gives you the most joy.
If you are still wondering what you are best at, use this time to review what you love to do, and ask others what they find is your greatest gifts. You may be surprised what great qualities they say they have observed in you, that you never saw in yourself. Usually we take our gifts for granted because they come so easily that we feel everyone can do what we do so easily. Know that is not the case!
Feng Shui looks at our environments with the cycles of the moon, tides, geology, and the sun's rise and setting in order to realize how cycles repeat and how to achieve balance in our lives by observing nature. In my last blog, I spoke about sickness and/or separation being strong November, December, and in January 2017, now reaching it highest potential in order to allow the negative fear based energy to come up to the surface and be cleared.
We saw such unpredictable energy surface in 2016, with many of our beloved celebrities recently passing. Our ability to "let go" now will reach its highest potential in January before the new 2017 visiting energy arrives. This month's energy will reach its peak around January 20th. This "letting go" energy will offer us an opportunity to be more allowing.
The Feng Shui yearly visiting energy has been very strong in 2016, and has caused many to wake up to their highest potential.  2017 will be an impactful year for our evolution as a society to help clarify who we are and how to best live in peace. Remember that our meditations and thoughts create our world conscientiousness now more than ever before, so it is important to think positively in order to transform our world with peace and abundance for all.
I have been busy preparing many 2017 Yearly Feng Shui update reports for many of you for your homes and businesses. I am pleased to report I am seeing some pretty amazing energy coming for so many of you in 2017! Thank you so much for being return clients and allowing me to do what I love. I also want to thank many of you who sent cards, emails, your newsletters, and your well wishes to me and my family for a Happy New Year.
I want to be sure I am serving all of my readers well and if you have any requests for subjects you would like me to write about in my blog, please email me by replying to my emails if you are on my list, or fill out the "contact me" form on my website at: https://withinyourspace.com/contact/.  As a reminder, I send out my monthly energy visiting energy report to my email list before posting on this site.  If you would like to receive this report before I post just submit your name with your best email in the right column of this blog.  As a bonus you will receive my Feng Shui personality profile to chart your personality and that of family and friends!
I will share more about the exciting new energies coming in my February blog describing the 2017 Year of the Rooster based on the Solar Calendar. The Solar Calendar was created by Chinese meteorologists to better understand the reoccurring cycles of the seasons impacting people and their environments.
This year's Feng Shui energy officially shifts on February 3, with the arrival of the 2017 New Year's visiting energies, not to be confused with the Chinese New Year celebrated with pageantry and based on the Lunar Calendar, also used for one type of Chinese Astrology arriving on January 28, 2017 with the first new moon.

Note: Because the Feng Shui "yearly visiting" energy is brand new, it is also the strongest energy in the building. The age of the building will determine how strong the "permanent" energy is which was captured when the building was built. Newer buildings have stronger permanent energy, and buildings older than 25-30 years tend to have weaker energy. For example if the energy in the center of your building is great for wealth and it is a NEW building, the wealth would show up more often to the occupants than if it were an older building.  Wealth and good health would be more influenced by the monthly and yearly visiting energies in the old type buildings! ​​​​​​​
See below for the Feng Shui Monthly Energies
for your building for:
January 5, 2017 thru February 3, 2017
CALL ME at 805-523-8488 to SAVE $300 on a Feng Shui Onsite Comprehensive Reading for your home or business during January. You will receive a drafted floor plan of your building with energy grids outlined and you will know the proper colors and elements to use to enhance your good health, prosperity and harmonious relationships in each of the nine quadrants of your building for the 12 months of 2017 starting with the month of February!
Center: Has the potential to increase what it is with: "your buildings permanent Feng Shui energy" and also the "yearly visiting Feng Shui energy". Since we are still in the 2016 Feng Shui yearly energy until February 3, 2017 you will see the biggest energy of separation/sickness being increased one last time before being replaced by the 2017 yearly visiting energy! Any energy located in the center quadrant has an effect on all occupants of the building. That "letting go" energy from last year helped to clear out the old in order to make room for the new and abundant energy coming in 2017. Be prepared for surprising changes coming in January.
Northwest: This Feng Shui energy in the South brings the potential for wealth and fame and will increase what it is with: your building's Feng Shui permanent energy, and the 2016 Feng Shui visiting yearly energy still remaining for another month related to whining and complaining. If you spend a lot of time in the Northwest this month, you may find you are considering investing in real estate this month, finding a new home, a new business location, or a second home.
West: January Feng Shui visiting energy in the West brings the potential for separation and/or sickness. Take care to get lots of rest. Use this energy to decide what you may want to release in order to get more done. It will be easy to reorganize this area this month. If you are selling something here, people will part with their money easily in the West in January. If this is an employee space, that person may end up out sick more this month so be ready with a back-up plan. Long term relationships may end with a potential for a new relationship coming here in February if this is a space you spend a lot of time in during January.
​​​​​​​Northeast:  In this Northwest quadrant, the Feng Shui monthly energy has the potential for whining and complaining. For some this could bring the potential for feelings of betrayal and/or the potential for robbery. If this is an entry door, I suggest you avoid the Northeast entrance for the next two months, if possible. Otherwise remember that you create your own reality. Know that you are supported by divine energy and continue to remind yourself, "Everything always falls in place for you!
North:  The potential for delays, pain and/or struggles has a strong potential for the occupants of the North in January.   You may feel more tired this month if the North is a bedroom where you sleep, having a challenge getting up and going in the morning.  If it is an entry you may find that you forget things and have to return. If this is your office, relax and allow things to go at their own pace, because forcing this energy will just frustrate you. Take advantage of a slower pace in the North this month.
Southwest:   A strong potential for an increase in power and authority comes here for the occupant(s) of Southwest in January. . Good Feng Shui energy here in January, bringing the potential to increase wealth for the occupants and expand relationships such as new clients, family members or friends. It is a very auspicious energy. This energy supports good decision making.
South: This Feng Shui visiting energy in the South during January may show up as a great potential for travel this month, and/or signing up for an academic course, speaking or teaching. With continued power and authority here from the 2016 continued yearly energy, you may find January brings you some exciting new beginnings!
Southeast: This month's Feng Shui energy has the potential for an increase in abundance, showing up as good health, additions to the family, new friendships, or an increase in clients, and/or wealth coming to visit occupants of this area. This could also bring lots of people gathering here or in your life in general this month, especially if this is your entry door, or family room or conference area. This is very positive energy that brings the potential for expansion, growth and wealth to all areas of the occupant's life during this period.
East: The Feng Shui energy in the East brings wealth, along with career development and/or competitions at work. This could turn out to be a very good month for your career if you spend a lot of time in the East!
Patt Sendejas, CID – CA Certified Interior Designer, author, speaker, and consultant is available for Interior Design/Feng Shui consultations on commercial and residential spaces. Patt is an award-winning kitchen designer, model home designer, and holds a B.A. in Interior Design. She is also a graduate of UCLA's Environmental and Interior Design Program. Call Patt today for an hourly in-home design consultation – 805-523-8488.