March a month of momentum.  Are you ready for travel, enjoy more creativity, attract a new love, learn new information or have academic success this month?  All of this can be your experience in March!  Receive this blog in your inbox before it posts each month on my website!  Submit your name and email in my newsletter box in the right column of this page or for mobile viewers scroll down to the Free Click Here Box!
What an exciting month ahead. After the visiting energy of delays in February, expect this month to be fun with a fast momentum forward! I am always amazed when the energy in the center of a home or business plays out in the lives of the occupants according to the energy potential within the space.
When I traveled to Hawaii several years ago, I had the pleasure of meeting some wonderful business owners. One woman told me she was a marriage and family counselor who was planning to move into a new space for her business which had previously been a home in Makawao, Maui. She asked me to consult on her future space before she signed the lease to be sure she would experience success in her business. She was moving into a home that was now being converted for business purposes.
When I met with her at the space and took a compass reading, I told her, "The permanent energy here has the potential to cause great creativity in this space, based on the center energy of the building from the year it was built and would continue to reoccur each year.  ​​​​​​​I told her this would be good for an art studio or for teaching since it would be good for education and learning. I mentioned that she would be teaching her clients a lot. The space would also support Spiritual information and respect."
She told me that the son of the original owner, who now owned the property, grew up in the home and was now a very successful Hawaiian Artist who had his art on display in the local art gallery in Makawao.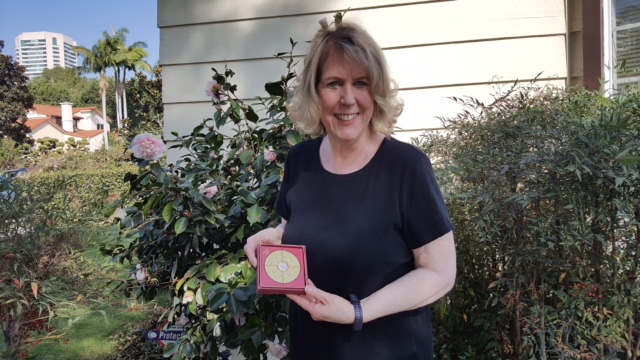 Are You Attracting What You Desire Your Momentum?
I am relieved when a client phones me to ask me to give them an overview of a business or home's energy before they sign a contract for rent or purchase because it gives them more awareness, and provides for more options.  We can always remedy the space, but in a commercial space that can be much more challenging to remedy especially when a large quantity of water is required outside the back of the building based on the "nature science" compass Feng Shui.
Recently I was asked to consult on a space just after the client had signed a five year lease and before they had moved in, but not before they made major changes to the interior of the building.  The client was unfamiliar with Feng Shui and how I take a compass reading on the building to determine the building's unique energy.  A client is often surprised to hear I can tell a lot about the experiences for the past and future occupants.  Unaware of the help I provide in the selection of a building, this client waited until it was time to select paint colors before reaching out to me.
As I drove up I realized I knew this building well, and without taking a compass reading I was familiar with it's energy which had a potential for creativity, travel, teaching, and respect, like the monthly March 2018 Visiting energy and just like the energy I spoke about in the marriage and family counselor's office in Makawao
The building was open due to construction workers preparing the space for a new tenant.  As I entered expecting to see what I remembered the previous interior to be, housed by a business that grew so well it needed a larger space.  After they moved, I was told it was occupied by an art studio.  Now I noticed the main part of the existing office space had been changed and a large opening 6 feet wide by 8 feet high had been opened by my client leading to a warehouse which had a large roll up door which was open for days during construction.
My heart sunk, because I suspected they had changed the energy in the building with such a large opening to the warehouse from the main office space.  When a large opening is kept open for  72 hours or more as this was during construction hours, it has the potential to change the buildings original energy.  Sometime we choose to change the energy when it becomes more desirable to help the occupant create momentum in their business or family success.
​​​​​​​I could feel the large movement of outdoor air circulating throughout the building almost as if I were standing outdoors.  When I worked up the new energy, I could see it would need to have major remedies and proper space planning to make sure the occupants were seated in the more prosperous areas.  I am pleased that this client was eager to work with me on the remedies and floor plan layout according to Traditional Feng Shui.  If your prefer to have a Feng Shui report done by email Click Here for details.
I want to encourage you to phone me if you are thinking of purchasing or renting a home or business.  It costs you nothing to phone me and chat about your future plans.  I am happy to speak with you over the phone or meet with you in person to better explain how the Feng Shui can give you many benefits and help your life to flow forward with greater momentum and ease.  Most of my clients who have a consultation, do come back year after year to have an update report done when the yearly and monthly visiting energies change, as it did recently in 2018, beginning February 4th with the Year of the Dog!
* * * * * * * * * * * * * * * * * * * * * * *
See below for the Feng Shui
Visiting Monthly Energies from
March 5th, 2018 – April 4th, 2018
Click here to read last month's February, 2018 ~ Energy Blog.
Are You Ready For The Year Of The Dog?
Click here to listen to my February Monthly Energy Training Video
Be sure to add my email: patt@withinyourspace.com. to your safe sender list in order to receive my early mailing of my monthly energy blogs!
Unlimited Viewing for NEW Video Training
​​​​​​​for the Monthly Energy
Remedies & Presentation for March!  (Recorded Feb. 28th)

Each month on my Feng Shui training video calls I use a Power Point to share with you valuable information.
Based on this secret "nature science",  I provide you with the proper remedy and location to place in your
home and/or yourwork environment to support your best outcome. Plus you will receive a detailed description of the
Monthly Visiting energies in combination with the Yearly 2018 Feng Shui energies in all nine quadrants!
Don't miss this opportunity to join my video training call and create the momentum you desire to be a powerful manifester of your own destiny!

Center:   has brings greater momentum to the occupants of the building for creativity, travel, speaking, teaching, creative writing, respect, and improved academics in March.
South:  Enjoy an abundant March with more wealth, added relationship and/or good health expansion, especially if this is your front door, office, or bedroom.
Southwest: this energy has the potential to bring wealth and fame to the occupant of this area.  Look for recognition this month if you use this area often!
East:  this energy has the potential for separation and or sickness.  You may receive a transfer or promotion, or change jobs this month.  It is a month to let go if you spend time in the East very often in March.
Northwest:  this month's visiting energy brings the potential for delays, pain, and/or struggles.
West: the visiting energy here brings the potential for power and authority.
North: this month's visiting energy brings the potential to increase your permanent and yearly visiting energy to it highest potential for the year!
Northeast: the visiting energy here brings wealth, and can bring feelings of betrayal and/or potential for robbery here.  I cover more details for you in my March training video.  (Recorded on Feb. 28, 2018).
Southeast:  this energy brings the potential in the Southeast for whining and complaining.  If you have a serious discussion, it would be best to have your discussion in the South, the center area of your building or outdoors this month rather than spending a lot of time in the Southeast.
If you would like to know more about having an on-site Feng Shui consultation for your home or business, phone me at 805-523-8488 for a personal quote.

* * * * * * * * * * * * * * * * * * * * * * * * *

Patt Sendejas, CA CID – CA Certified Interior Designer, author, speaker, and Feng Shui consultant is available for Interior Design/Feng Shui consultations on commercial and residential spaces. Patt is an award-winning kitchen designer, model home designer, and holds a B.A. in Interior Design. She is also a graduate of UCLA's Environmental and Interior Design Program.

Call Patt today for an in-home Feng Shui Interior Design Consultation – 805-523-8488.